If I searched this whole wide world
I'd never, never, never find me a girl
Who would love me the way that you do

'Cause you're my
Shama lama, baby, rama lama ding dong, hey, yea
You put the ooh mau mau, oh oh oh oh
Back into my smile child
Hey, yea, that is why, that is why
You are my sugar doo dee doop
Okay, enough of Otis Day and the Knights, onto The Ring:
This is Coach Hanks.
No, he is on the LH here, yellow blazes!
Think of him as Boromir:
Then there is me, think of me as the Hobbit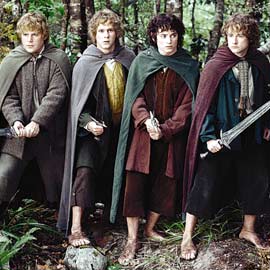 ll
Coach Hanks was coming back for redemption after his DNF 2012 Ring. His and Slim's plan for his finish: Stay behind Kimba. Cuz she will finish.
NEO TC: Cam, Slim, Coach, Kimba, The King
There was a record number of Ring starters this year: 46. At first I thought we would be congested in the first couple miles on the trail, but by the time we crossed the road and started through Elizabeth Furnace, the pack had thinned into much smaller groups.
It was a particularly hot day out there. I heard high 80's. High humidity. Very very little breeze, and that was only on the ridge tops.
l
One of the challenging sections of The Ring is the first 25 miles. Runners need to go 13 miles before the first aid station, which is Milford Gap. Volunteers hike up water, Gatorade, and a few snacks. Then it's 12 more miles to the next aid station, Camp Roosevelt.
I wore my Ultraspire Vest, which has two bottles, and also carried one handheld. I was glad for the handheld, since I took a fall in the first six miles, and the bottle saved me from trail rash on that hand. It was definitely a three bottle day, through the first 50K or so!
Coach still good and chipper on the East Ridge
Happy to be at Milford
Allison was one of our volunteers who hiked in our aid at Milford!
There are some good runnable sections on the Eastern Ridge after Habron Trail intersection. The haze prevented some of the really good views of the valley.
Eastern Ridge, right before the Kennedy Peak turn off
It was nice to see that our Ring Leaders and volunteers are trying to keep us on orange. At the blaze yellow Stephens Trail, numerous branches have been placed across the Stephens Trail-stay on orange to Camp Roosevelt!
I've split the Ring Report up due to my wordy travelogue. Part Two of the Ring will be along soon!